| | | |
| --- | --- | --- |
| | | |
| | Click to Select Models | |
| | | |
Aculas

®

-AM-200A

10-channel

(Low Level Laser Therapy)
Performance & Safety
Full scalp treatment
Moderate power density with evenly dispersed laser beams.
Helmet protection with no laser leakage is safer than any laser device in the market.

Medical Laser Power

The real laser power output

(max. 900 mW)

CE Medical Verification
ISO 13485 Quality System Certificate

Reliability
Equipped with the industrial grade laser diodes
Temp. rating >50°C
MTBF (Mean Time Between Failures) > 5,000 Hours


Aculas-AM-200A multiple channels digital LLLT helmet is developed from "Laser Biostimulation" theory.
This patented product is made using the combination of modern laser diode technology and computerized digital control.

Aculas-AM-200A is the first LLLT head treatment for clinical or personal applications in the world since 2004, employed the most advanced laser technology to treat:
Alzheimer's disease and dementia
Brain stroke rehabilitation
Traumatic brain injury (TBI) rehabilitation
Headache, Migraine
Scalp laser acupuncture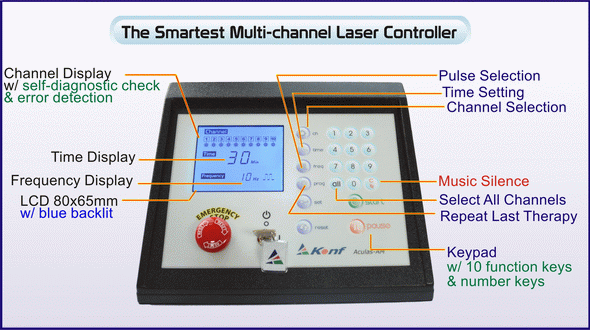 Features
Specifications
Standard Acc.
Model No.
Laser irradiations reach the scalp by ten simultaneously activated laser modules for the most effective treatment.

Patented laser modules emite to the acupoints or trigger points without the risk of laser leakage for complete protection.

Microprocessor-based control, with the functions of self-diagnostic check and error detection, can automatically detect faulty alarm channel(s).

Color-distinguished keypad for convenient key-in.

Ten user-friendly function keys combined with numerical keys for easy setting of the therapy process.

Dynamic large size (80x65 mm) LCD with

blue backlit

display for clear reading.

Digitally selectable continuous wave or pulse output for wider application.

To set the last therapy process with a single function "

Prog.

" key for time saving and accuracy.
Operation Environment

0 ~ 50 °C

(32 ~ 122 °F)

; 10 ~ 95%RH

(Non-condensing)

No. of Channels

10

Time Setting

1 ~ 60 Minutes

(Min. Setting Segment 1 Minute)

Frequency Setting
0 Hz

(Continuous Wave)


1 ~ 999 Hz

(Min. Setting Segment 1 Hz)

Music Alert

Remote Pause, Stop and Fault

Power Supply
90 ~ 264V AC, 47Hz ~ 63Hz, Max. 1.0A (115V AC), 0.5A (230V AC)
Short Circuit and Overload Protection; Auto Recovery Mode

Verification

EMC Directive 93/42/EEC


(Operation Environment: Medical Electrical Equipment)
Standard Applied: IEC 60601-1 and EC 60601-1-2
Medical Device Certificate

ISO 13485: 2003

Shipping Dimensions

46(L) x 15(W) x 32(H) cm;

18.1(L) x 5.9(W) x 14.2(H) in

Shipping Weight

4.2 Kg

(9.2 Lbs)
Laser Helmet



WH-10x
Helmet Material
ABS

Quantity of Laser Module

10

Laser Material

Semiconductor Laser Diode




660nm…

AlGaInP




780nm…

AlGaAs




808nm…

AlGaAs




980nm…

InGaAs/AlGaAs

Wavelength
… Output Power

660nm

…900mW (10 x 90mW)


780nm

…900mW (10 x 90mW)


808nm…

900mW (10 x 90mW)


980nm…

900mW (10 x 90mW)

Weight

860 g

Option

Limited Selectable Laser Diode Wavelength & Output Power

Shower Cap

For multiple users application, it is recommended to use disposable shower cap with the clear transparency.
Aluminum Case
WC-123
Dimensions
450(L) x 330(W) x 130(H) mm;
17.7(L) x 13(W) x 5.1(H) in
Weight
1.7 Kg

(3.8 Lb)
Model No.




Aculas-

Laser Helmet
Total
Output Power
Red Laser

Invisible Infrared Laser

660nm

780nm

808nm

980nm

90mW

90mW
90mW
90mW
AM-200A690
10
900 mW
AM-200A790
10
900 mW
AM-200A890
10
900 mW
AM-200A990
10
900 mW
AM-200A675
5
5
900 mW
AM-200A685
5
5
900 mW
Large Helmet


for 62 ~ 64 cm head circumference

Model No.




Aculas-

Laser Helmet
Total
Output Power
Red Laser

Invisible Infrared Laser

660nm

780nm

808nm

980nm

90mW

90mW
90mW
90mW
AM-200A690-XL
10
900 mW
AM-200A790-XL
10
900 mW
AM-200A890-XL
10
900 mW
AM-200A990-XL
10
900 mW
AM-200A675-XL
5
5
900 mW
AM-200A685-XL
5
5
900 mW